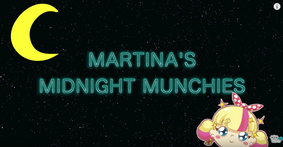 The Eat Your Kimchi segment, Food Adventures Program For Awesome People (F.A.P.F.A.P) was created by Simon and Martina to experience new restaurants and food from around the world. Sometimes they show how the food is made, or they will play games and try unusual snacks.
Martina made a (unofficial) segment called Midnight Munchies.
Ad blocker interference detected!
Wikia is a free-to-use site that makes money from advertising. We have a modified experience for viewers using ad blockers

Wikia is not accessible if you've made further modifications. Remove the custom ad blocker rule(s) and the page will load as expected.