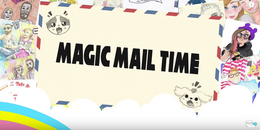 Magic Mail Time was created so Simon and Martina could open gifts from fans. Originally it was apart of Eat Your Sushi, but due to time restraints and food spoiling they made it into it's own segment.
Now Magic Mail Time is usually apart of a Live Stream so they can converse with fans. They open gifts during the show, try food or play with the toys/gifts, and read any letters from fans afterwards.
Ad blocker interference detected!
Wikia is a free-to-use site that makes money from advertising. We have a modified experience for viewers using ad blockers

Wikia is not accessible if you've made further modifications. Remove the custom ad blocker rule(s) and the page will load as expected.