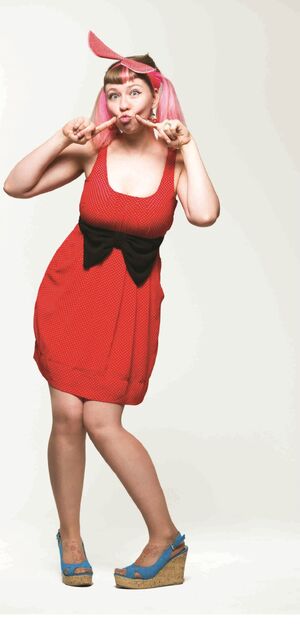 Martina is the co-host with her husband Simon, on their Youtube channel Eat Your Kimchi.
Early Life
Edit
Martina Stawski was born May 1st 1983. She is the second daughter of her mother and father, she grew up and lived in the same house just outside of Toronto, Canada.
Simon and Martina moved to Korea in 2009 as English teachers and started to film videos for their families.
Simon and Martina adopted Spudgy and Meemers.
Simon and Martina closed the Eat Your Kimchi Studio and moved to Japan in hopes of exploring different parts of Japan. While they are not at the studio anymore, they will continue to make videos.
While in Japan they briefly held the segment, Eat Your Sushi.
They are currently hosting a podcast on SBS Asia called Eat Your Kimchi.
Martina loves cute things like Hello Kitty and Sailor Moon.
She designed the tattoo on her arm. She also has a tattoo of cherry blossoms on her feet.
She has EDS. In hopes of helping others and lifting people's spirits on bad days she created Open the Happy and Painfully Cute: Brace Yourself For Fashion.
Ad blocker interference detected!
Wikia is a free-to-use site that makes money from advertising. We have a modified experience for viewers using ad blockers

Wikia is not accessible if you've made further modifications. Remove the custom ad blocker rule(s) and the page will load as expected.